American Dirt Bike now has the Magura Hydraulic Clutch System for the ROTAX 600, 560, 500, 350 4 strokes, ATK 250 LQ and ATK 406 all years. Imagine your ROTAX clutch pull light as a feather. These systems come all ready to go with no bleeding. Very high quality Magura lever set with a built in compression release lever for the ROTAX 4-stroke. We carry all parts and perform all service work at ADB. We also have the Hydraulic Clutch For the Yamaha YZ 400,426 & 450F. We have many applacations so please ask.
The Complete System for Rotax $259.00ea. Insturctions included
All other Hymec Systems $239.00ea.
To Order:
email: americandirt@earthlink.net
call :1-951-283-5447
Visa, MasterCard, Discover,Amex, COD, PayPal
The Hymec unit will upgrade the clutch activation from mechanical to hydraulic.
Hymec automatically compensates for the ever changing clutch plate pressure point and will eliminate the constant need to readjust the cable at the lever.
Hymec improves modulation over the cable system and will achieve 20% less lever pull. It also weighs less than the cable system.
Hymec installs very easily and comes ready to go with no bleeding.
Cold forged lever with reach adjustment.
Uses biodegradable mineral oil which is readily available.
Optional threaded mirror mount and decompression lever
Replacement Levers:
Shorty Lever $32.95
Standard Lever $34.95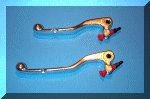 Braided Line Kit $52.95
Will fit any Hymec unit, comes with instructions

Magura Blood Mineral Oil $16.95 1 Liter