This is page two of some of the best photos of Avenger/ ATK's. Please enjoy!


Rare 88 406! This is the first year of the 406 with only about 200 total made in 1988. It has a CalFab aluminum swingarm and is the only year 406 to have one. This is a very nice example of the early 406. Super light weight (218lbs)


This is Mark Zinks Avenger 600ESDS. Mark wanted a bigger gastank without the full body sidepanels. One of this Avengers favorite playgrounds is Mohab Utah.

1993 ATK 604 EFI This bike has it all. Electronic Fuel Injection, Hi Flow Dual Exhaust, Street Legal, You program it with your laptop for different engine configurations. ATK originally made these bikes for the Colorado 500 where elevation changes were on a grand scale. They ran perefect from sea leval to 10,000ft without a change to the jetting.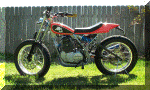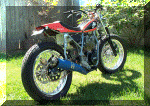 ATK/CCM Street Tracker. This bike is a blast to ride if you can keep the front wheel down around town. This tracker has oversized Brembo brakes, ceramic coated exhaust, lights, turn signals, single side mounted rear shock.....Take the lights off and go race.

Sweet Avenger as it is for my 2003 ride.

ATK 604 1990! This is a cherry 604 with 1992 rear fender and side panels. This was a great year for the 604. ATK won the World 4 Stroke MX Title, Desert & Enduro Titles a number of times with this bike. The nickle frame still looks brand new after many years of use. Great Bike!

1989 ATK 406 Enduro!!! This cool 406 has a 6 speed trans,lighting.This 406 was an eastern enduro contender in the late 80's and early 90'