ADB Bikeshoe $74.95ea.
Colors: blue or black
Instructions and hardware included
To Order:
email: americandirt@earthlink.net
call:1-951-283-5447
Visa, MasterCard, Discover, Amex, COD, PayPal
We also carry the Motorcycle Tie Bar
The ADB Bike Shoe is the most advanced method of securing and locking your dirt bike. Install it in your pickup or van. It can also be easily adapted to your trailer, motor home and camper racks.
This device is designed to clamp directly to any 19"-23" tire,eliminating any pressure on the fork springs. It will hold your bike even with a flat tire. The Bike Shoe is made of high quality steel (3 stage iron, phosphated and epoxy powder coated afterwards).
The Bike Shoe comes with all bolt down hardware
The bike never moves because the suspension absorbs all the impact.
The ease of loading and unloading your bike is unbelievable!. You can load your bike in seconds< and it replaces costly and often replaced tiedowns.
For ALL Dirt Bikes Its As Simple As 1...2...3...
Push bike into strap "A" to stop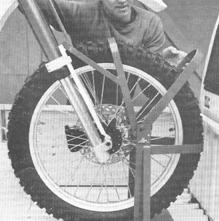 Pull retaining strap "B" as far back as possible.
Pull handle "C" all the way back to lock position
to secure tire.
Fitting Instructions For Bike Shoe
Before you drill holes into the floorbed of your vechicle, make sure you drill in an aera where there is a possibility to secure a nut underneath and you do not have interference from wire harness or cables.
If you do not wish to drill holes into the floorbed of you vehicle and wish to remove the Bike Shoe after use, mount the unit on a 3/4" piece of plywood (6x3) not supplied with Bike Shoe.
If you wish to mount several bike shoes on your vehicle, arrange them in an offset position to avoid bikes from colliding.